DIGITAL COGNITIVE ASSESSMENTS
Advancing cognitive testing
Innovating beyond traditional paper-based methods to increase sensitivity, efficiency, and actionability.
Traditional cognitive assessments
Cognitive assessments have traditionally been paper and pencil-based and administered only after a patient has started experiencing symptoms of cognitive impairment. While these assessments are well-known, traditional testing methods present several challenges for providers, including being typically time-consuming and manual in nature; susceptible to subjectivity and potential inter-rater reliability issues; and focused only on the output of the cognitive task — limiting the clinical insights available.


Three of the most commonly used cognitive assessments include:
Mini-Mental State Exam (MMSE)
The Mini-Mental State Exam (MMSE) is a commonly-used cognitive test — developed nearly 50 years ago — that assesses five areas of cognitive function. The MMSE consists of 11 questions or tasks, such as orientation questions, word recall, and drawing a copy. It typically requires 7-8 minutes to administer. Research indicates that the MMSE is not as sensitive as the MoCA in detecting mild cognitive impairment. Additionally, the MMSE test requires administration by a healthcare professional and scoring is a manual process.
Montreal Cognitive Assessment (MoCA)
The Montreal Cognitive Assessment (MoCA) is another well-established cognitive assessment — developed over 20 years ago — that assesses seven areas of cognition. The MoCA consists of 30 questions or tasks, such as animal naming, clock drawing, and word recall. It typically requires 10-12 minutes to administer on paper. Research has shown it to be more sensitive than the MMSE in detecting mild cognitive impairment. Training and certification are mandatory to administer and analyze results from the MoCA, both of which are manual processes.
Mini-Cog
The Mini-Cog consists of three questions across two test components — a three-item word recall and clock drawing — to assess four areas of cognitive function. The test typically requires 3-4 minutes to administer. Research has indicated that the Mini-Cog is more sensitive than MMSE in detecting mild cognitive impairment. However, it faces the same general limitations and subjectivity concerns of other paper-based tests and, similarly, only evaluates final test outputs.

Modern cognitive testing
Digital technology is transforming traditional pencil and paper approaches to cognitive testing into more objective, efficient, and sensitive methods. Modern digital cognitive assessments, like Linus Health's Digital Clock and Recall (DCR™) leverage familiar digital devices to streamline test administration while enhancing the clinical insights available to providers.
Traditional Paper-Based
Digital
Administration
Typically time-intensive
Quick administration*
May require certification
Minimal training required
Room for subjectivity / inter-rater reliability concerns
Standardized & objective
Language constraints
Multi-language support
Scoring & tracking
Manual scoring
Automated scoring & interpretation
Manual data entry for results
Fast online results, EHR integration*
Limited tracking over time
Digital results tracking
Clinical insights
Limited sensitivity in early stages of cognitive impairment
Greater or comparable sensitivity*
Test scores only
Test scores & clinical guidance*
* Depending on particular solution
Next-generation digital assessments
AI-enabled solutions go a step beyond traditional digital cognitive assessments, incorporating machine learning to enhance sensitivity and the insights available to providers - while requiring less time. Leveraging AI, Linus Health's digital platform uniquely incorporates The Boston Process Approach, analyzing the patient's process of completing a task (e.g., drawing a clock) as well as the final output versus only the latter - all in just a few minutes. This yields a more robust assessment of cognitive functioning and richer insights to inform next steps for patients – within an iPad-based solution that's fast, objective, and easy to use. For more on how this digital cognitive assessment compares with traditional tests, visit our scientific publications page.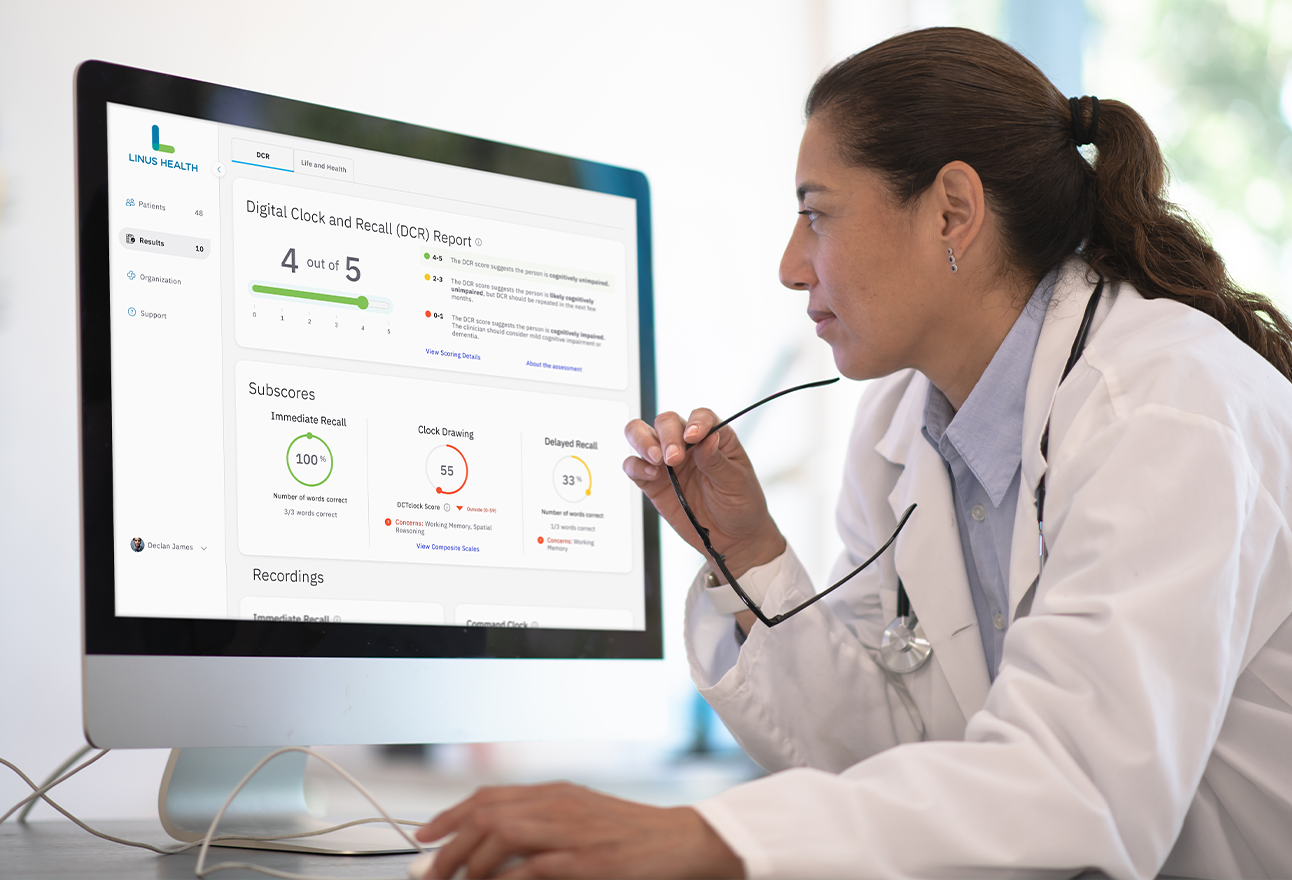 Frequently asked questions
Below you'll find answers to the most common questions about cognitive assessments.
Cognitive testing focuses on assessing an individual's cognition to determine if their cognitive performance is normal or if they may have signs of cognitive impairment. Signs of cognitive impairment can be present even if an individual is not exhibiting clinical symptoms. Some cognitive impairment cases stem from reversible causes, but others may occur due to underlying causes like Alzheimer's disease or other dementia. Cognitive testing is particularly important for older adults and assessing patients for cognitive impairment is now a required part of Medicare's Annual Wellness Visit. For more on expanding and enhancing cognitive assessments as a provider, access our guide.
The most commonly used cognitive assessments historically have been paper-based cognitive tests, such as the Mini-Mental State Exam (MMSE) and Montreal Cognitive Assessment for Dementia (MoCA), described above, though a variety of other tests exist. Digital cognitive assessments have also arisen in recent years and are rising in usage. Patients experiencing clinical symptoms of cognitive impairment may also undergo more elaborate neurocognitive testing with a combination of tests to further a diagnosis and care plan.
Cognitive assessments vary in duration based on several factors, including the test(s) used and whether the purpose is for an initial cognitive screening / assessment or a more in-depth analysis of cognitive function in response to other tests or the presence of clinical symptoms. When it comes to tests focused on early cognitive impairment, a variety of tests exist, including paper-based tests like the MMSE and MoCA, as well as digital solutions. Test duration typically ranges from just a few minutes to 30+ minutes depending on the test(s) used and number of tests performed. Digital options offer a number of efficiency benefits for providers.
A wide range of cognitive assessments exist for detecting whether someone may have cognitive impairment. These can be used for routine screening or in response to a person exhibiting symptoms of possible cognitive impairment, which may be occuring due to dementia. These cognitive tests include the traditional tests above, as well as digital cognitive assessments. If these cognitive tests reveal abnormalities, patients are likely to undergo additional neurocognitive testing with a neuropsychologist or neurologist to determine if their symptoms are due to dementia or another cause.
Proactive cognitive care and testing can provide benefits to all people aged 55 years and older, but are especially important for individuals aged 65 and older. To that end, Medicare now includes a requirement for cognitive impairment detection within the Annual Wellness Visit (AWV). Regardless of age, cognitive tests should be performed for anyone experiencing signs of cognitive impairment. Proactive care practices can not only support early detection, but also facilitate impactful coaching on steps patients can take to protect their brain health by addressing modifiable risk factors for dementia.
Digital cognitive assessments offer a wide range of benefits over paper-based cognitive assessments. For example, digital cognitive testing solutions boost workflow efficiency with automated administration and scoring. They also enable objectivity and consistency in cognitive testing and some have shown to have higher sensitivity than traditional tests. For more on the advantages of digital cognitive assessments, view our guide.
Prepare for shifting dynamics in cognitive care
Download the guide below for insights on preparing for your older adult patients' evolving brain health needs.