Expanding Cognitive Screening & Assessment:
A Practical Guide for PCPs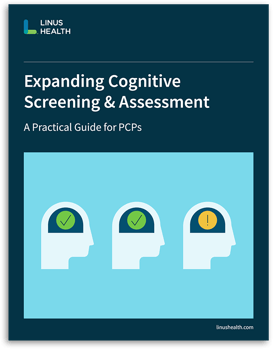 Prepare your organization for rising cognitive care needs
With dementia cases projected to more than double in the next 30 years and emerging Alzheimer's treatments reliant on catching the disease in its early stages, it's more critical than ever to advance early detection in brain health.
Providers in primary care settings play a critical role in spotting cognitive issues, but they've had to contend with manual, time-consuming cognitive testing methods. Digital innovation is changing this, making earlier intervention more feasible.
Download this guide for insights on enhancing cognitive care while boosting workflow efficiency in your organization.

Understand shifting dynamics in cognitive care and implications for PCPs

Learn how advanced digital tools can benefit both providers and patients

Gain rollout best practices for workflows, billing, and patient engagement