Unlocking a critical window of opportunity for early intervention
The world is on pace to see an unprecedented wave of age-related cognitive impairment and brain disorders in the decades ahead. The benefits of early detection can be life-changing — a chance to intervene to slow disease progression, and more time to plan for the complex needs that come with a diagnosis. However, often the practical challenges of traditional cognitive assessment tools, alongside limitations in the insights they provide, get in the way of widespread routine use. The Linus Health platform — a suite of digital cognitive assessment, clinical decision support, and intervention solutions — helps providers detect signs of cognitive impairment early and efficiently and take action to address them, all while boosting the bottom line.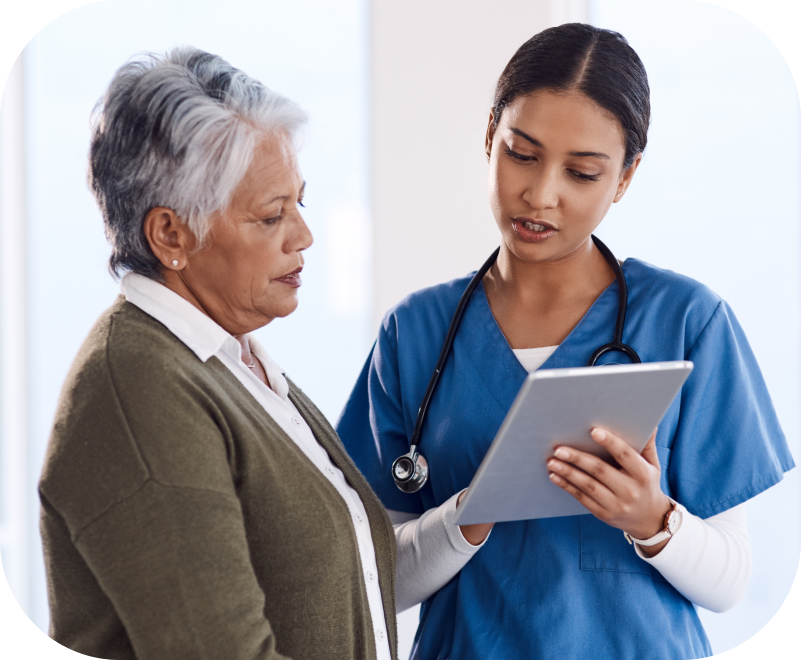 See the platform in action
Discover how the Linus Health platform can make cognitive assessments more practical, insightful, and impactful for your organization.
Enabling healthcare organizations to meet escalating cognitive care needs
Catch cognitive impairment early and efficiently
Quick, sensitive, digitally-administered assessments help providers detect signs of dysfunction even before symptoms begin, making proactive cognitive screening and early detection both possible and practical.
Turn insights
into action
Assessment results provide much more than scores; accompanying clinical decision support from Linus' team of medical experts empowers providers and patients to pursue targeted interventions.
Boost the
bottom line
Efficient administration and short test duration open new avenues for reimbursement – through both cognitive assessments and care planning – and free up providers' time for other valuable clinical activities.
Bringing cognitive assessments into the digital age
Coupling clinical expertise with cutting-edge AI, the Linus Health platform brings visibility to early, subtle signs of cognitive impairment. A cornerstone of the platform, the Core Cognitive Evaluation™ (CCE), combines objective analysis of cognitive performance from the Digital Clock and Recall (DCR™) with qualitative metrics from the Life and Health Questionnaire (LHQ) to deliver multifaceted brain health insights. Available on familiar devices, the digital platform is accessible and easy to use.
AI-enhanced assessments
The DCR™ detects signs of impairment by analyzing patient performance on a combination of clock drawing and word recall tasks. Core to the DCR is DCTclock™, a scientifically validated, award-winning assessment that uniquely analyzes 50+ metrics throughout the clock drawing process – detecting signs of impairment invisible to the human eye. A digital questionnaire, the other key component of the CCE, augments this by helping uncover modifiable risk factors to classify a patient's future dementia risk and inform action plans. Fully automated, requiring minimal staff time or training, the two parts together take less than 10 minutes to complete.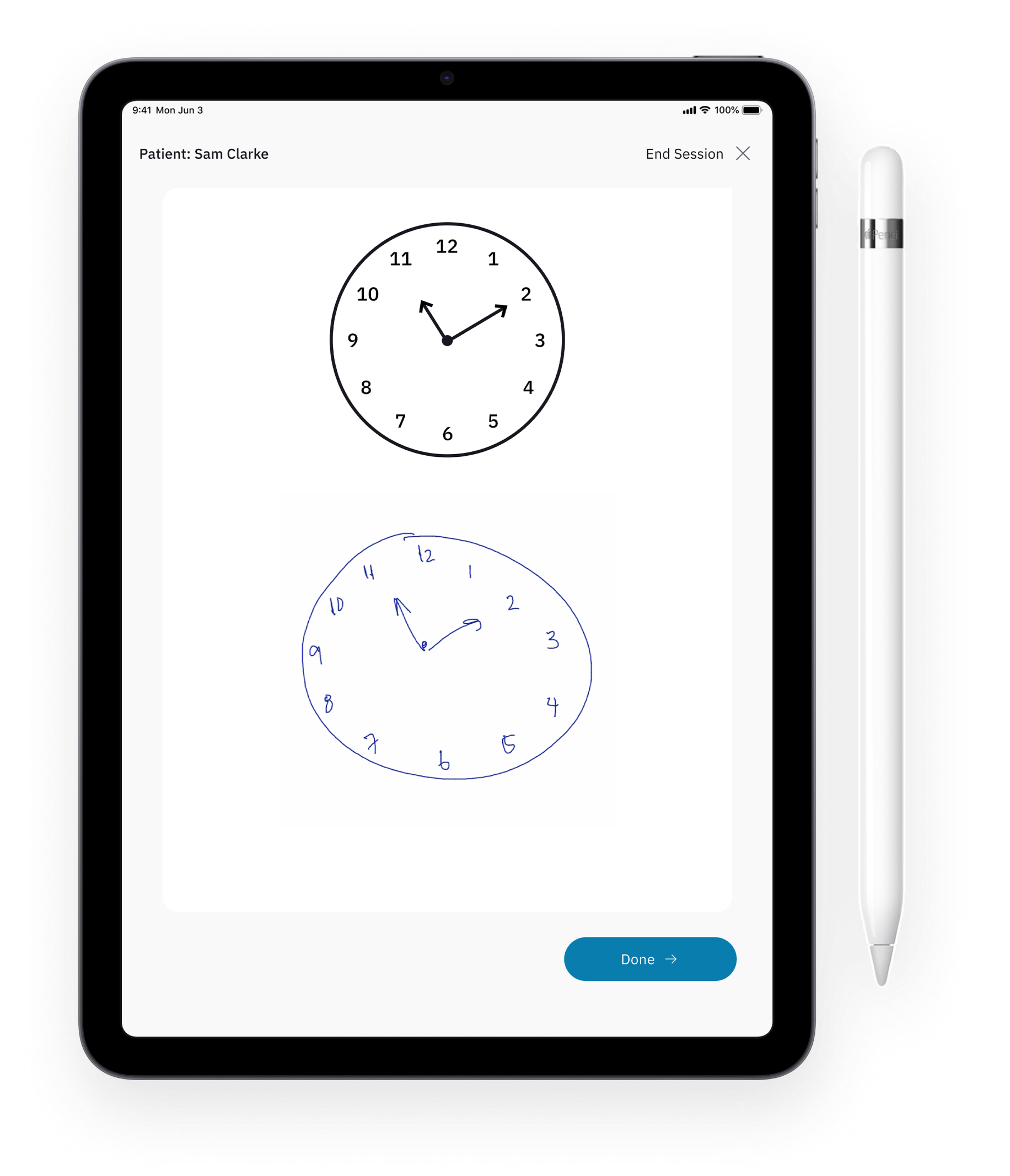 Actionable insights for providers
Linus Health's user-friendly online portal provides both detailed patient results and integrated clinical decision support, which our expert medical team curates. With immediate access to rich, well-organized reports and corresponding clinical guidance, providers gain both insight into patient performance in a variety of cognitive function domains and support for navigating next steps in the diagnostic pathway.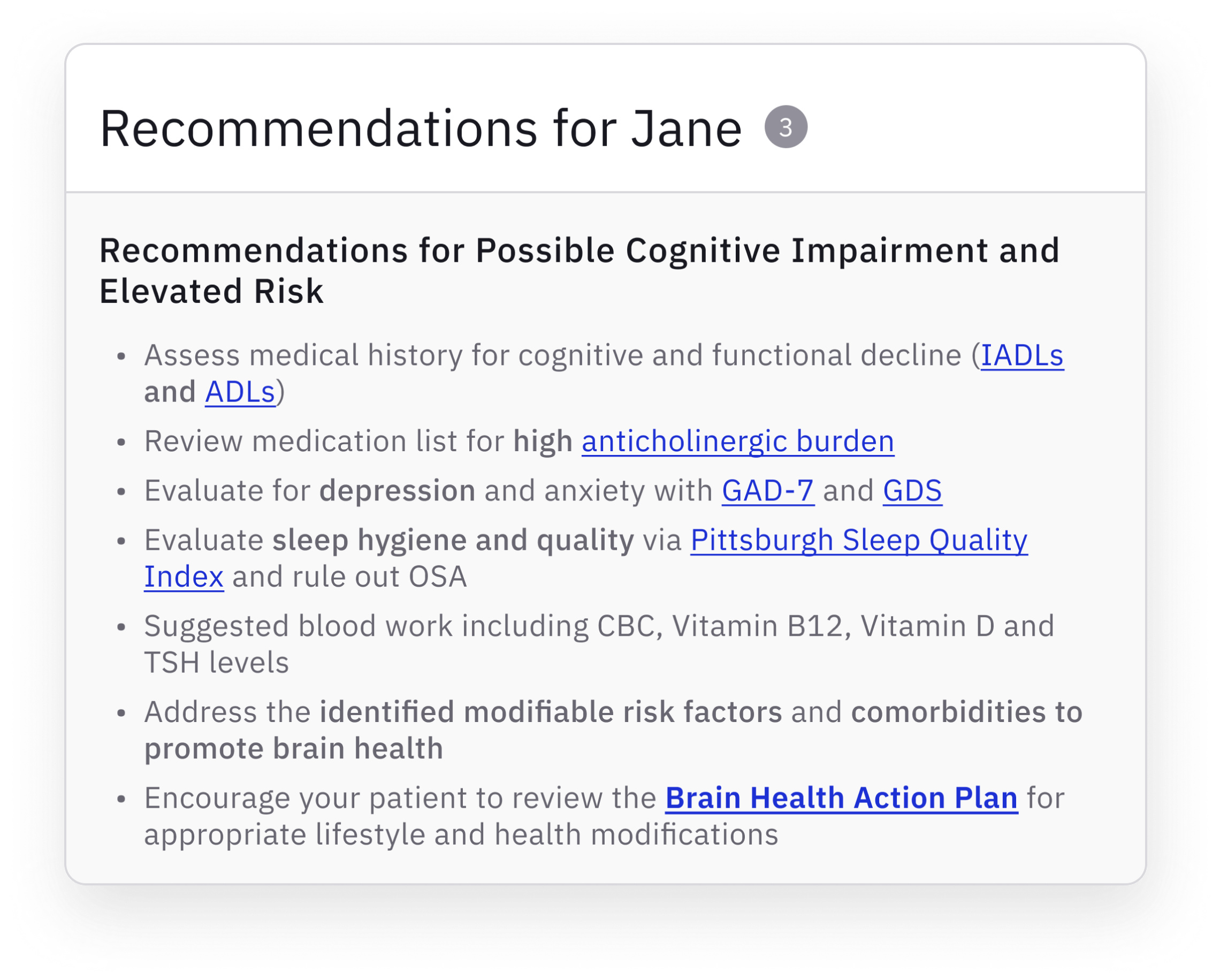 Personalized action plans for patients
Dynamically assembled based on a patient's questionnaire responses, patient-friendly result summaries and personalized action plans give providers a functional framework for patient counseling and behavioral interventions. From enhancing sleep quality to building community, these plans offer actionable, evidence-based recommendations on ways patients can promote brain health in their daily lives.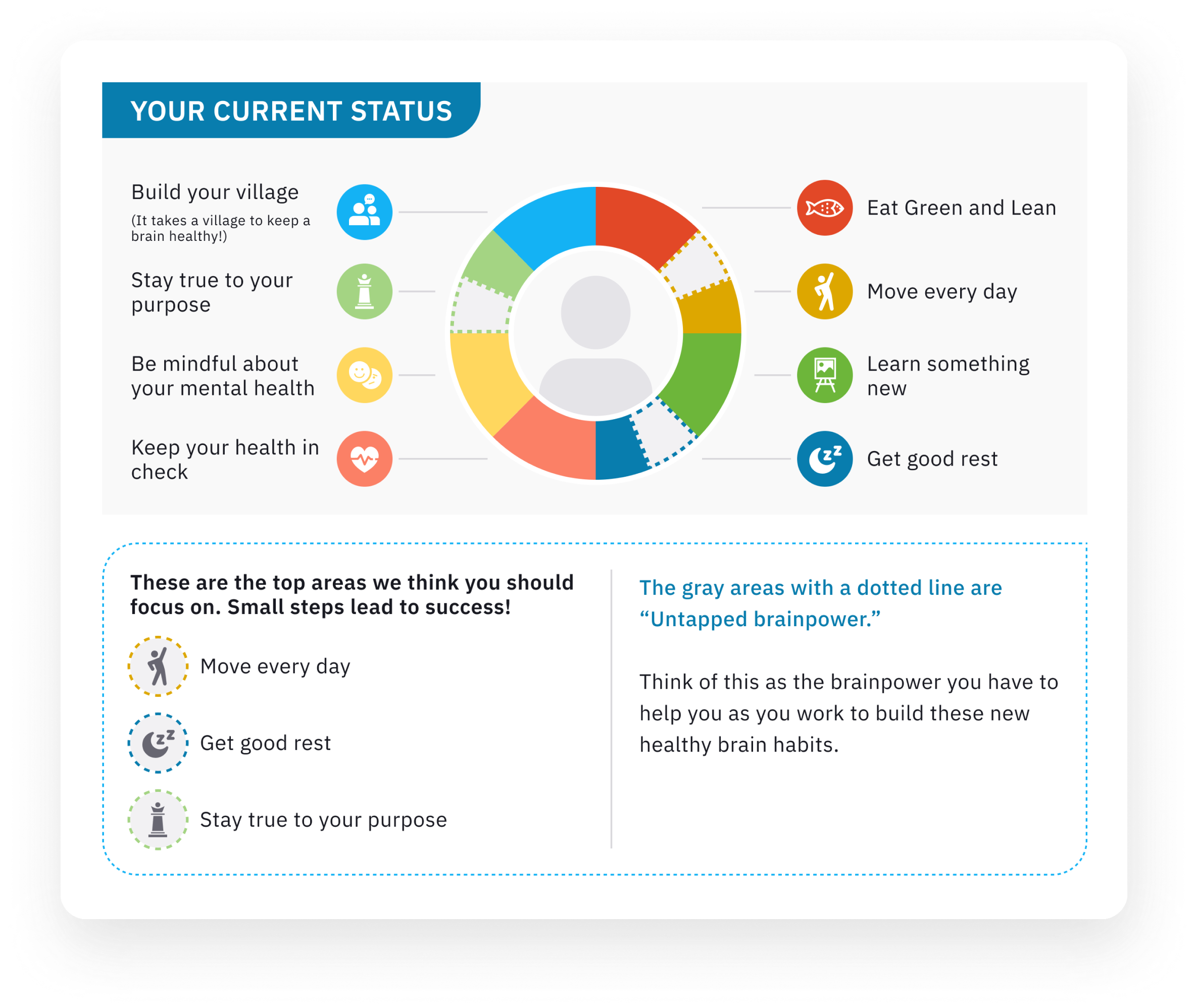 Frequently asked questions
Below you'll find answers to the most common questions about cognitive assessments.
Prepare for shifting dynamics in cognitive care
Download our guide — Expanding Cognitive Screening and Assessment — for insights on preparing for your older adult patients' evolving brain health needs.